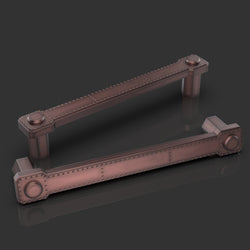 Industrial PH
Oliver | Knights 'Industrial PH' Pull Handle.
Manufactured & Hand Finished in the UK from Solid Brass.
Product Image finished in Industrial Copper.
Product Dimensions - 300, 450, 600, 900mm (38mm Width)

* Quantity of 1 is equal to 1no. Pull Handle
* For Bespoke / Other finishes please specify in project reference notes.
* Bespoke sizes available on request.
Industrial PH Specification Sheet